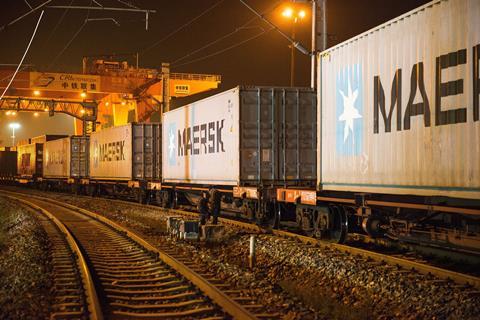 Maersk has set up a weekly rail service running between Turkey and China in response to demand from the automotive and industrial industries.
The service, which takes 16 days, runs from Izmit in Turkey to Xi'an in China and is part of Maersk's Intercontinental Rail (ICR) network. That service connects rail with shortsea services to the Black Sea, eastern and southern Europe via the port of Korfez in Izmit, using Sealand feeder services. Sealand is a container shipping subsidiary of Maersk.
"After having successfully launched our Intercontinental Rail (ICR) service from China to Europe three years ago we have seen increase in demand by our customers for this particular service from different locations across both Asia and Europe," said Kasper Krog, head of intercontinental rail at AP Moller-Maersk.
Krog said Maersk had been motivated to launch the ICR in Turkey because of the country's strategic position as a link to both Asia and Europe, its manufacturing industries and the improvements to rail the government has carried out of the past few years.
Turkey has traditionally relied (or over-relied) on road as its main mode of inland freight transport but the government and the Turkish Automotive Manufacturers Association have been using the private sector to develop rail infrastructure.
This latest move to expand its ICR service follows on from the route it established at the end of March this year running between St Petersburg in the west of Russia and Vostochniy in the east. Containerised freight carried on that route is loaded onto Maersk's short-sea vessels for delivery to Korea and Japan. Again, that service is suited to automotive and industrial amongst other sectors, according to Maersk.
Demand for rail has increased
Maersk's Izmit-Xi'an service is the latest in a number of recent announcements for rail routes between Europe and Asia. Demand for freight capacity has increased significantly in the face of capacity shortages on ocean and air.
At the end of April Shandong Hi-Speed Group started operating an express service between Jinan in China and the port of Hamburg in Germany. Earlier last month freight forwarder, cargo-partner, introduced two weekly less-than-container load (LCL) connections between Germany and China, the first between Duisburg and Hefei, the second between Linz and Xi'an.
In March, DHL Global Forwarding and Xi'an International Inland Port Investment & Development Group launched what they described as the fastest rail service from Xi'an in China to Hamburg and Neuss in Germany, cutting transit time from 17 to between 10 and 12 days.
Services have also resumed between Wuhan and the German inland port at Duisburg. The port of Duisburg was affected by the impact of the massive restrictions imposed in Hubei province during the coronavirus outbreak and experienced a significant drop in goods coming in from China and other Asian countries (including South Korea), particularly in the month of March.