Tug crews have succeeded in refloating the Maersk container vessel that became grounded outside the German port of Bremerhaven on February 2.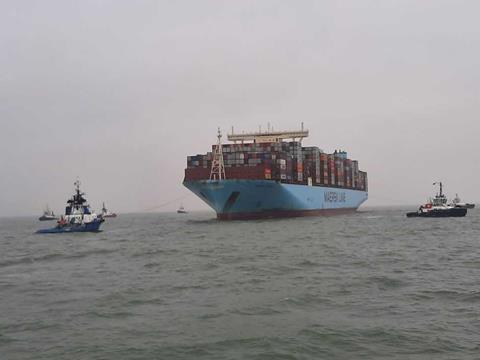 In a tweet, the global shipping company said the Maersk Mumbai, which was reported to be carrying around 7,400 containers, was refloated in an operation conducted in close cooperation with Smit Salvage and the German maritime emergency agency Havariekommando.
There was no disruption reported to vessel calls at the port of Bremerhaven.
Eight vessels were included in the mission to free the ship, which became grounded near the German island resort of Wangerooge in the North Sea. The vessel was en route to Bremerhaven from the port of Rotterdam.
The vessel was freed from its grounding at 01.00 on February 4 during a second attempt to refloat it under the direction of Havariekommando. It has now docked at Bremerhaven port.
The Maersk Mumbai, which was built in 2018, is among the world's largest container vessels and has a capacity to carry 19,630 TEU containers. Maersk started introducing E-class vessels in 2006, which doubled the previous capacity of its container vessels.
As the number of mega-size container vessels increases in the pursuit of better economies of scale, questions are being asked about their efficacy. There have been a number of incidents in which cargo has been lost. The vessels have a limited number of routes on which they can sail, and there are relatively fewer ports that are able to handle vessels of that size.
Smit Salvage was also involved in the freeing last year of the Ever Green container vessel MV Ever Given, which became grounded for a week in the Suez Canal, leading to significant disruption to global maritime trade.