Daimler's joint venture with Russian truck maker Kamaz celebrated the production of its 25,000th Mercedes-Benz truck at the Daimler Kamaz Rus (DK Rus) plant in Naberezhnye Chelny last week – a white Mercedes-Benz Actros 1845 LS.
The milestone also marks 10 years since Mercedes-Benz Trucks started sending complete knockdown (CKD) kits to the DK Rus from its German plant in Wörth. All vehicles at the DK Rus plant are made from CKD kits shipped by container from Germany to Russia. Each kit contains up to 2,800 individual parts for assembly on site.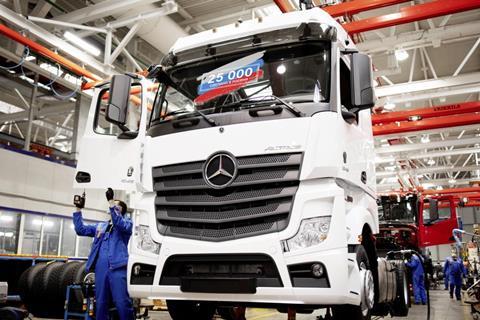 However, since the middle of 2019 the truck cabins for the Mercedes-Benz Actros and Arocs models have been made locally, at the Naberezhnye Chelny plant. Last year the company invested €200m ($239m) in the new cabin facility and more than 150 components have been localised with Russian suppliers.
Production for CKD kits began at Wörth in 1966 and the CKD Center has now exported more than 750,000 of them around the world for assembly in 60 destination markets. The current portfolio of the CKD Center in Wörth includes the Mercedes-Benz Actros and Arocs in the fields of road and construction site transport. Unimog and Zetros vehicles are also shipped as kits.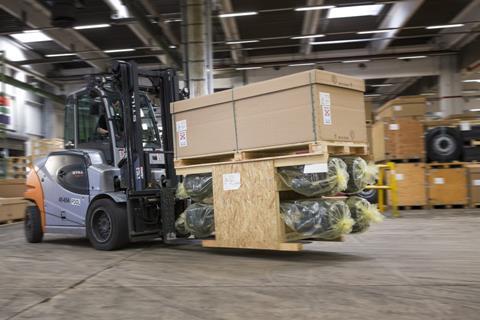 All trucks assembled at DK Rus are sold into the Russian market and, combined with production of Fuso trucks, which are also made on the line at the plant, the company has made 35,000 trucks for the Russian market so far.
The Daimler Kamaz Rus joint venture began production as two separate joint ventures in 2009 – Mercedes-Benz Trucks Vostok and Fuso Kamaz Trucks Vostok. Those two companies were merged in 2017.