Russia's largest vehicle maker, Avtovaz, will shut down assembly at its Togliatti plant for at least three weeks at the end of May because of a new wave of supply disruptions.
In March, several tier one suppliers notified Avtovaz that they could not deliver components in the required quantities to maintain production. That affected 550 part lines, according to the carmaker.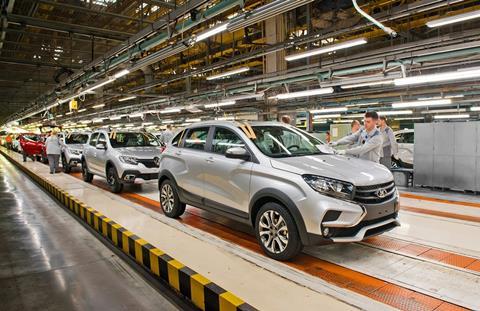 The carmaker made allowances for the impact on assembly by claiming the forced outage would enable it to modernise the plant to increase output and expand operations in the second half of 2022. Avtovaz insists that it is still on track to assemble 400,000 finished vehicles in 2023, more than twice that produced last year.
Albert Karimov, deputy minister for Industry and Trade, said the large number of supplier closures was why the Russian automotive industry was in a turbulent condition. He explained that the number of suspensions meant the industry had crossed a 'de-localisation' threshold in 2022.
"Technically, these plants are located in Russia but they belong to foreign companies which decided to curtail operations in the country," said Karimov. "So, in general, there is available capacity in Russia but they are not fully engaged in components production."
The Russian press reported that Avtovaz's forced outage in May is down to problems with local suppliers, who themselves were suffering from supply disruptions at the second-tier level. Avtovaz said that to tackle the problem it is working to approve alternative suppliers and this process should be finalised in the next few months.
The Russian government has recently approved a sub-programme for the development of automotive components production in the country worth 45 billion roubles ($650m). The authorities want to build dozens of plants in the country, relying almost exclusively on local businesses in the next few years.
Complete ban threat
There are mounting fears about deepening supply disruptions, as the G7 countries debate near-total ban on exports to Russia. Bloomberg reported in April that the US and Ukraine's allies were considering "an outright ban on most exports to Russia".
Despite the sanctions, G7 and the EU member states sell $66 billion worth of goods to Russia a year, with automotive products remaining one of the most significant export categories, Bloomberg reported, citing data from marketing firm Trade Data Monitor.
Georgy Bovt, a Russian political analyst, told local news outlet BFM that the embargo seems a likely option for western countries to put additional pressure on the Russian economy. He added that it might be similar to the sanction regime imposed on Iraq in 1995, under which the country was allowed to import only a few categories of goods from western countries, primarily food and medicines.
Bovt also expressed confidence that the probability of the restrictions largely depends on whether western governments could urge countries in the Middle East and Eurasian Union to support the new trade rules. Currently, Russia keeps importing finished vehicles, automotive components and spare parts, including from Europe, through several third countries, under a scheme known as a parallel import.