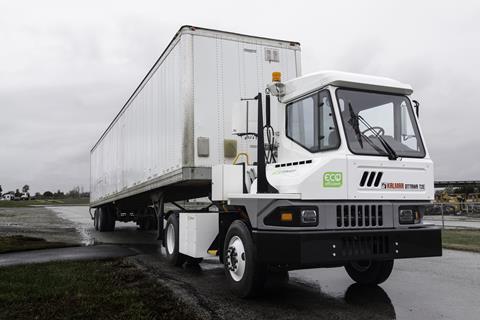 Penske Truck Leasing has added a Kalmar Ottawa Electric Terminal Tractor (T2E) to its range of electric vehicles in the US.
"The introduction of these new all-electric commercial vehicles into Penske's fleet is another in a series of recent moves the company has undertaken to test and showcase innovative electric vehicles and help bring them to market," said Penske.
In the past year, the Pennsylvania-based company has added light-duty, medium-duty and heavy-duty battery-electric trucks to its fleet and is constructing an EV charging infrastructure in California.
"We remain committed to being at the forefront of commercial vehicle electrification for our customers," said Brian Hard, president and CEO of Penske Transportation Solutions. "Adding the capability of an electric terminal tractor is a natural next step as they are an essential part of the mix for fleet operations."
The new vehicle will be first used by Penske Logistics in California. The T2E is designed for trailer-handling operations in lorry depots, warehousing and distribution centres, container terminals and related operations where short-distance travel is required. Powered by a lithium-ion battery, the vehicle's features include an on-board inverter charger, which allows the vehicle to be repowered during natural working breaks.
The addition of a T2E to Penske's range solidifies the companies' commitment to be part of a cleaner and more sustainable environment for generations to come, commented Doug Queen, vice-president solution sales terminal tractors at Kalmar Ottawa.
Penske's Hard added: "Penske and Kalmar Ottawa have a long-standing relationship and we look forward to continuing to work with them to provide our customers with reliable and innovative yard trucks for their fleets."