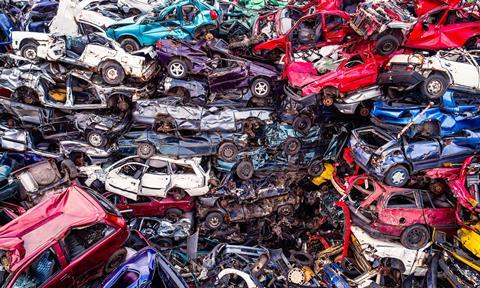 The European Commission (EC) should avoid individually assessing materials when vehicles are being scrapped and retain the current practice of considering them as a single item, says the European Automobile Manufacturers' Association (ACEA).
The OEMs' sector body was commenting in a position paper for the EC's statutory review of its 20-year end-of-life vehicles (ELV) directive.
An expert workshop for interested parties will be held in Brussels on February 5 to gather views and information as part of the evaluation which began last August and generated 127 responses during the public consultation period. It was open to producers, distributors, collectors, insurance companies, dismantlers, shredders, recoverers, recyclers, authorised treatment operators, consumers, environmental protection groups and individuals.
One idea which has surfaced is separately assessing each material used in vehicle production.
"The recycling industry treats vehicles holistically, since treatment and recycling of an entire ELV is a profitable business. Changing this approach to assess every single material stream individually may lead to incorrect conclusions," ACEA contended.
Setting fixed targets for recycled plastic content in new automotive parts would not be helpful, it added.
Level playing field
"Recycled plastic can only be used as a substitute if recyclers can guarantee that recyclates have the exact same technical and quality properties as virgin material. Moreover, supply of recycled content must be guaranteed throughout the whole production period of a part or the entire vehicle … in order to avoid production coming to a halt.
"If that is not the case, it becomes technically impossible for manufacturers to meet any quota."
ACEA added: "A level playing field must be guaranteed for all market operators. A shortage in supply of recyclates, triggered by, for instance, increased demand from other sectors, must not lead to artificial price hikes."
Plastics, which make vehicles lighter, are used in seatbelts and airbags, and recycled plastics in wheel arch liners, engine covers and carpets.
"ACEA members will keep exploring new possibilities to increase the content of recycled plastic in automotive parts and reduce the use of virgin material," the association added.
Almost two decades on from its introduction the directive has significantly improved the way in which motor vehicles are recycled and disposed of, ACEA said. Millions are scrapped each year.
Strengthening the system
"Any amendments or changes proposed by the [European] Commission as part of the review of the ELV directive should aim to support and strengthen the existing system, and not create new legal obligations nor disrupt the smooth functioning of the current scheme…
"Indeed, the European ELV recycling process is one of the most advanced and effective systems for the recycling of complex consumer products around the world." According to ACEA, its achievements include:
• Cost-free take-back of vehicles for customers
• Reuse and recycling rates of at least 85% for some of the most complex consumer products
• No more abandoned ELVs in Europe
• A high number of authorised treatment facilities (ATFs) with certified environmental requirements
• The use of hazardous substances being either stopped or minimised to the technical limit
• Proper recycling/recovery of many different materials, including ones of negative value
• Provision of comprehensive dismantling information for the recycling industry through the International Dismantling Information System (IDIS)
Among tweaks the ACEA would like to see to the current system include better implementation and enforcement through surveillance of ATFs to put a stop to "a considerable number of ELVs" being treated by unauthorised operators.
"These illegal recycling activities prevent legal operators from accessing valuable resources, thereby not only jeopardising their business model but also the overall legal basis of the recycling value chain," ACEA argued.
The better enforcement should include an obligation for the last owner to provide a certificate of destruction on de-registration of a vehicle, said the ACEA, which named the Netherlands and Czech Republic as having good practice in this area.
The association also had a word to say about a vehicle's useful life before it is scrapped.
"It has always been the automobile industry's goal to design vehicles that not only can be used as long as possible, but also are reusable, reparable and recyclable to the highest possible degree.
"The success of our industry's approach is demonstrated by the fact that the average age of an ELV, according to national authorities, is 14 to 20 years, which is much higher than many other consumer products," it said.
Moreover, remanufacturing programmes exist for engines, transmissions and electronic components, while further reuse is possible for many parts after dismantling and treatment, ACEA added.