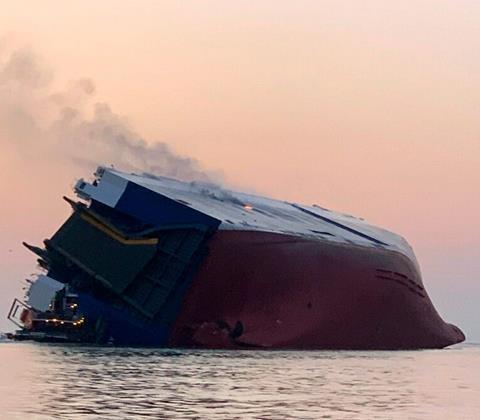 Hyundai Glovis' car carrier Golden Ray is to be dismantled where it lies, half-submerged in St. Simons Sound near the US port of Brunswick, Georgia.
Maritime experts have determined it is not possible to safely right and refloat the vessel in a fully intact condition, according to Unified Command, which is charged with handling the aftermath of the 8 September grounding.
"Consequently, Unified Command is developing plans to remove all of the M/V Golden Ray's hull, components, and cargo by disassembling the vessel in place. This remains a complex situation but additional information about the removal plan and the expected timeline will be shared with the public as and when available," the authority said.
Unified Command primarily consists of the US Coast Guard, Georgia Department of Natural Resources and Gallagher Marine Systems, which provides compliance services to the shipping industry.
The 20,000 dead weight tonnage (DWT) Golden Ray partially capsized after the pilot, Captain Jonathan Tennant, deliberately grounded the vessel in response to a fire on board while it was heading out to sea with around 4,300 vehicles on board.
All 24 people on the ship were rescued safely, although it took around 30 hours to free four crewmembers trapped in the engine room. Rescuers cut a hole in the hull for them to escape.
An investigation into the cause of the accident continues.
Unified Command says its priorities are ensuring the safety of responders and the public, protecting the environment, and completing full removal of the vessel. More than 225,000 gallons of fuel have been removed and lightering of the remaining fuel and lubricant tanks continues.
In recent days white smoke came from the vessel. Unified Command says that situation has been stabilised, though the cause of the smoke remains unknown.