In Colombia, Puerto Bahía port authority has inaugurated a new pre-delivery inspection PDI facility for inbound finished vehicles. Among the services provided are vehicle checks, valeting, washing and paint repair, a dedicated spraying booth being available for the latter.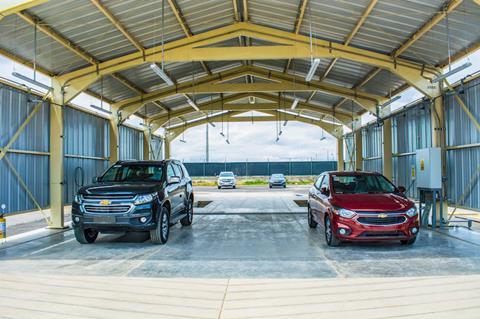 The facility covers an area of 500 sq.m, incorporates 16 vehicle work stations and an additional four washing points. While the port traditionally manages general cargo and bulk liquids, the latest investment means it can provide services for up to 60 units a day.
Once processed, vehicles passing through the unit will be dispatched to dealerships by road. Puerto Bahía told Automotive Logistics that the facility will be used by all carmakers using the port. In June, the operator signed a three-year deal with Porsche, which distributes brands such as Audi, Volkswagen, Seat and Skoda in Colombia. GM is also using the facility.
Bahía Port is the leading import and distribution centre for finished vehicles in Colombia and claims to have significantly reduced delivery times because of improved efficiency and last-mile services.
Around 20 shipping line services now call at the port, with the overall dwell time for vessels having been notably reduced in recent times.
In terms of ro-ro traffic, Bahía Port now handles 63% of Colombia's total ro-ro trade in the Caribbean. The vehicle terminal currently handles around 106,000 finished vehicles annually and claims to have reduced its damage rate to 0.01%.
For 2020, the port plans to introduce additional PDI facilities capable of providing last-mile services to enable it to retain its leading position.