According to figures from the Russian Federal Customs Service (RFCS), during the first nine months of 2019, Russia exported 73,400 finished vehicles worth $1 billion, an increase in volume of almost 28% compared to the same period in 2018.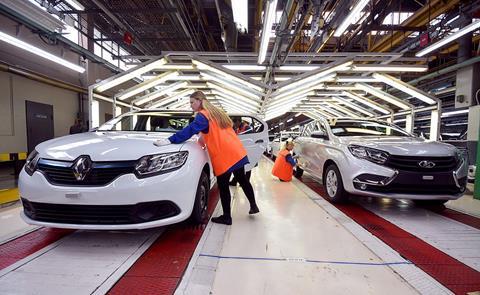 This year the Russian government has allocated 4.5 billion rubles ($80m) to support exports. It is the highest level of expenditure given to support vehicle exports on record and will take the form of logistics subsidies, homologation of Russian products to meet the technical requirements of export countries and their promotion among foreign customers.
Russia is also seeing demand for automotive components from abroad, according to Andrey Slepnev, director of the Russian Export Center. "We have OEMs coming from Germany and asking to find Russian [tier one] suppliers for them, as the price-quality ratio of the Russian companies is the best they can find," Slepnev told Russian Prime Minister Dmitry Medvedev in Moscow early November.
The main reason that exports are growing, according to the Russian Export Centre, is down to the integration of the Russian automotive industry into the global supply chain.
Nevertheless, the biggest sales market for Russian-origin vehicles is still the Commonwealth of Independent States (CIS). In the first nine months of 2019, 27% of the vehicles exported from Russia were supplied to Belarus and 23% to Kazakhstan. Beyond that vehicle exports are heading to Turkey (7%) and the Czech Republic (6.3%), according to Russian Export Centre estimates.
In Russia, state aid is one of the most important factors driving export supplies, a spokesperson for Nissan told the Russian newspaper Kommersant. In the first nine months of 2019, Nissan exported 3,000 finished vehicles to Belarus and Kazakhstan.
Onwards and outwards
The Russian Industry and Trade Ministry has indicated that the main car exporters are Avtovaz, VW, Renault and Hyundai and that they plan to build on export growth. Avtovaz has reported the export of 38,000 vehicles in 2018, up 57% compared to the previous year. Earlier it had set a target to boost exports from 60,000 to 100,000 finished vehicles per year; those exports go to 34 countries.
Meanwhile, VW plans to export 24,000 vehicles from Russia in 2019, said Lars Himmer, managing director of Volkswagen Group Rus. The German carmaker has also recently begun exporting engines from its Kaluga plant and hopes to expand export to 34,000 units per year within the coming decade, Himmer added.
By 2028, VW is going to invest 60 billion rubles ($950m) into its Russian division, Himmer said. Growth projections for VW out of Russia make it an attractive direction or the business, according to Himmer.
Russian companies are also set to further boost automotive components exports. In 2024, the Kaluga region is expected to export components worth $250m per year compared to $100m in 2018.
At a recent press conference, Anatoly Artamonov, Kaluga's governor, said there were different tier one suppliers, including those supplying Volkswagen Group Rus, Mitsubishi Motors and PSA Peugeot Citroën, that were establishing export supplies from the region.