The Russian federal government has introduced "long-term logistics subsidies" on vehicles transported to the European side of the country from the Far East, to be in place by December 1 this year. The latest development appears to repeal the decision announced by Prime Minister Dmitry Kozak in April of 2018 to cancel the subsidies, based on concerns that the subsidy was exclusively benefitting Mazda Sollers Manufacturing Rus (MSMR) – a joint venture between Mazda and the Russian carmaker Sollers.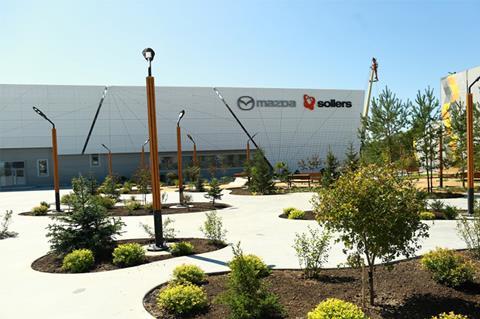 The recently published draft federal budget for the the period from 2020 to 2022 shows that the government has revised its decision. Logistics subsidies are due to be tripled from 500m rubles ($8m) in 2019 to Rub1.5 billion ($25m) in 2020.
According to an anonymous source at Sollers, the latest decision falls in line with the commitments the Russian government made when MSMR launched the plant in 2012.
In 2016 the logistics subsidies amounted to 3.2 billion rubles at which time the government promised to halve the subsidy and keep it at that level, according to the source, adding that the logistics subsidy was the cornerstone of the MSMR's financial model in Russia; without the logistics subsidy the Vladivostok plant would be loss-making.
The Vladivostok plant assembles on average around 30,000 vehicles per year but has maximum capacity for 50,000. Roughly 20% of this output is supplied to the Far Eastern market, while the rest is shipped across Russia to the western region, with nothing expected to change in 2020.
Uncertainty remains
However, there is uncertainty about what happens after 2020. For MSMR 1.5 billion rubles is a comfortable rate and Sollers has already appealed to the Russian government this year to boost the logistics subsidy to this level, but subsidies have not been approved for 2021.
Previously, the government approved state aid to MSMR on a yearly basis, but a recent instruction from president Vladimir Putin could change that and make automotive policy more transparent and predictable, something of benefit both for MSMR and its partners.
In 2018, Mazda sold 31,700 of the vehicles it assembled at the Vladivostok plant, compared to 25,900 the previous year. The company received 1.5 billion rubles in support last year, so the average subsidy per one transported vehicle was 4,730 rubles. During the first eight months of 2019, Mazda sold 18,841 finished vehicle in Russia. 4% less than during the same period of the previous year.