Confidence is gradually returning to the Russian automotive market with sales and production showing definite signs of life after a tough period of retrenching and divestment. Sanctions remain but many at this year's Automotive Logistics Russia conference in Moscow felt that this was the time to invest in the market again, while also looking for new export opportunities

After four straight years of production and sales decline in Russia, the automotive sector is seeing some signs of recovery. That is good news for the automotive supply chain in the country, however, many challenges remain to do with the economy, the country's infrastructure, government policy and bureaucracy.
Manufacturers and logistics providers are starting to explore ways to work together to bring forward investments, including to avoid potential capacity constraints in some segments that could start to bite as early as this autumn. Meanwhile, companies across the automotive logistics sector are looking to the Russian government for support and clarity on a number of customs, regulatory and subsidy programmes. Without such dialogue and cooperation, it will be difficult for all companies to make the most of the recovery.
Production this year is expected to hit 1.4m units, according to figures from business analyst IHS Markit – a healthy increase on the 1.2m nadir seen in 2016.
Production is running at an average of between 30%-40% of capacity, according to separate figures from financial analyst, Gazprombank, though some more popular brands are back to 70% and over. Car production grew by more than 20% in the first five months of the year, though light vehicle sales are lagging slightly and are expected to end up at around 1.6m units this year, up around 400,000 compared to last year.

The recovery will be slower than expected because of reduced incomes and savings amongst the buying public and the previous high of around 3m light vehicle sales per year in Russia is now unlikely to be realised before the end of the next decade.
According to Kirill Nikoda, analyst at Gazprombank's Economic Forecasting Centre, buying a car is one of the most expensive things for a Russian citizen, while fuel costs and spare parts are also pretty near the top of the list. Regardless of the financial constraints on the majority of Russians at the moment, the population still spends a total of some 9 trillion roubles ($150 billion) on buying, maintaining, fuelling and insuring new and used passenger cars each year, he said. A the same time prices for new cars have slowed down to target levels of inflation, which is positive for consumers.It is also positive for the automotive logistics sector, which according to Nikoda, is currently worth 150 billion roubles.
Meanwhile, although the market for imported cars in Russia has dropped by 15% on last year, and continues to fall, there is a strong focus on Russian-built vehicles. Some manufacturers are even expanding or updating plants and supply footprint; Mercedes-Benz is building a new plant for passenger vehicles in the Moscow region, for example; Volkswagen Group and commercial and contract manufacturer Gaz Group have signed an engine supply and cooperation agreement.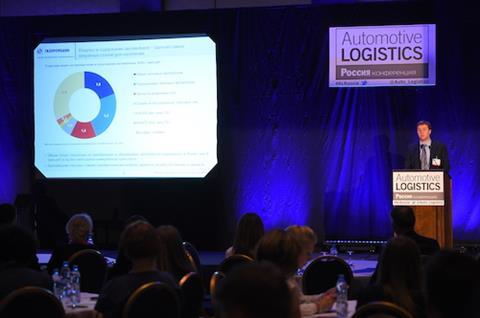 Tatiana Hristova, manager of central and east European light vehicle forecast, at IHS Markit, said that the gradual recovery in the Russian automotive market would in part depend on convincing investors that had not left the country to stay. That challenge was complicated by the ongoing economic sanctions imposed by the US and EU, which look like they are going to stay in place longer than expected, she said. While not worsening the Russian economy, these sanctions are impeding financial liquidity and Russia is looking further afield for investors from China, India and the Middle East.
Slow the market recovery may be (at least in the passenger car sector), however a number of companies are hopeful for the future while others note that the downturn has forced them to adapt new more efficient processes, which now means they are more prepared for change.
According to Elizaveta Korshunova, head of outbound logistics and deputy director for planning and distribution at Gaz Group's commercial vehicles division, if major logistics providers understand that the market needs to be developed by any means and that they can work with OEMs to share investment in new assets, the industry should find a solution to any problem, no matter what happens. Korshunova pointed out that the commercial vehicle sector is recovering faster than the passenger car market.
Downsizing for the upturn
The downturn has led OEMs and logistics providers alike to restructure their businesses and that in turn has led to contraction and consolidation.
Gefco, majority owned by Russian Railways (though its stake may soon be reduced), has seen a lot change over the last four years, according to Kamil Mezynski, managing director of Gefco in Russia.
In 2013, 97% of Gefco's business in the country was related to inbound and outbound automotive, but the figure is now below 70%, as it has expanded in other industries such as heavy equipment, railway and the energy sector. The company has also reduced its assets and footprint in Russia.
"We have prepared for the new reality and have compressed assets," said Mezynski. "We had seven sites in 2008; now we only have two. And in the good times, Gefco had a fleet of 300 vehicle carriers; it is now significantly lower. We had to consolidate."
Gefco has also incorporated its former Algai offshoot back into the main business. This was set up to handle General Motors distribution but with the OEM pulling out of the country in 2015, the volumes were not there any more.
At the same time, however, Gefco, has been making investments – including in railcars to move vehicles as well as storage facilities, such as the one at Doskino, in Nizhny Novgorod.
"Now it is only Gefco and we are ready for the reality," said Mezynski. "We still believe Russia is one of the most interesting markets to be in."
Korshunova also pointed to consolidation efforts at Gaz, which is primarily a manufacturer of light commercial vehicles, while also carrying out contract manufacturing for brands including Volkswagen, Skoda and Daimler.
"We have similar [reductions] in the number of warehouses and [the use of] different space and internal processes; we are ready for any further changes. After all the experience gained from living through the crisis, we have established a platform for future development," she said.
Investment in capacity
While under-used plant capacity remains a real problem, the gradual return to growth is causing issues on the outbound side of the business after years of under-investment.
That constraint is not showing too dramatically at the moment but by autumn there could be some real problems.
Alberto Picco, director of sales at car transporter manufacturer Rolfo, said there had been no new carrier purchases in Russia since 2015 and the size of the fleet in the country currently stood at around 3,000. Of that, 1,800 were 4-9 years old and in reasonable condition but the rest were not: around 600 were 10 years old or more while the other 600 were in poor technical condition and close to being scrapped.
"The companies are trying to keep them alive but they are tired assets," said Picco, suggesting that the sector would need 400-500 additional rigs by September and October this year to get cars from the factories to the dealers.
Elena Lukanova, president of vehicle carrier Adampol – which owns the Vectura car carrier brand in Russia – concurred and said that of the 3,000 car carriers running in Russia, there were only 2,200 in good working condition.
Elena Divakova, head of the logistics department at Mercedes-Benz in Russia, said everyone was worried by the deficit issue on good quality vehicle carrying equipment, because very few expected companies to be able to buy new stock at the high prices demanded. Even repairs to existing stock was seen as a heavy burden, she added.
"Nevertheless, I am obliged to call on you all to invest now, because it is the proper step now and will be really appreciated by the manufacturers," said Divakova, going on to suggest that such investment would be an investment in the future.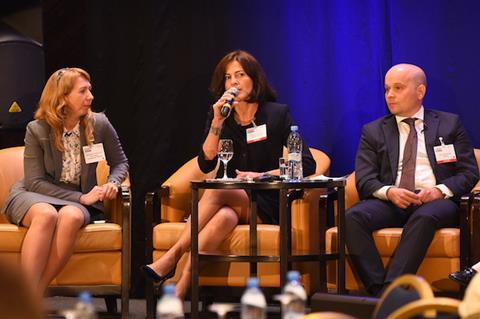 Mercedes-Benz dealers had received multiple complaints from customers about damage caused by rusting and out-of-date car transporters in the delivery of their new cars, Divakova said, adding that unfortunately, that was just what the market was now offering through the tender process.
"The market is king in Russia and has the final say. What you [put forward] is what we have to work with," she commented.
This is something both OEMs and the logistics providers need to think about, according to Picco.
"Vehicle transport is not a simple commodity," he said. "It is highly specialised and the equipment requires large investment." At the same time, however, he recognised that logistics providers were more exposed to economic cycles and the high volatility of the vehicle sector.
"The number of LSPs in Russia has decreased dramatically and just a few large ones remain that are able to renew their fleets," he noted.
Russia is a country where the market decides everything, said Mezynski of Gefco, and the market needs to adjust before further investment can take place.
"We have carried out a simple calculation on renewing the vehicle carrier fleet and the prices on the market have to be at the level of 80 roubles per kilometre," he said. "At the moment they are a bit lower than 60 roubles/km, so the market has to shift for companies to be able to invest."
Lukanova said that while it was true that the market dictated terms and conditions, that same market was underpaying Adampol by 15% and customers would have to support the investment in fleets to avoid the deficit. She called into question any transport provider that could undercut Adampol's rates on a long-term basis.
Logistics providers were also challenged by the changes to the vehicles they were expected to carry, said Picco. Fleet renewal in Russia is being affected by greater demands on performance, quality and safety, driven by what Picco identified as certain 'megatrends' including the general widening of vehicles thanks to more SUV and crossover models, and the rise in hybrid and electric vehicles, which typically adds 300-500kg to the weight of a vehicle, compared to a conventional one, because of heavier batteries.
Asked whether the bigger car carrying rigs seen in Europe could be an answer, Picco said the configuration of so-called 'megatrucks' meant that, despite being double the price of a conventional car carrying trailer, it was still only possible to load one or two extra cars at best.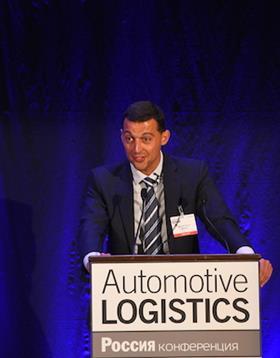 That saving was good enough in the current economic situation for Gaz's Korshunova, as long as quality could be maintained in loading and transit.
Reading the signals
Two major problems that typify logistics in Russia are sudden fluctuations in demand and the massive distances that have to be covered. Investment, whether shared or not, to deal with these factors is often difficult because of a third factor identified by Rico Lange, logistics lead at parts maker Robert Bosch Automotive Steering: investment signals can be misleading.
One of the things Bosch is doing to cope with short notice demands across big distances is to increase plant flexibility across its global production network.
"The idea is: 'ok we want to deliver all the products fast at the same price'," he said. "So all the plants need to be able to make the parts we make." This approach is being rolled out in Russia as well as Brazil, China and India, among other countries.
The company is also forging greater communication between sales and logistics with a view to better demand planning. Lange explained that Bosch was aligning the logistics view based on the planners' experience with sales data that included communication with OEMs on a number of levels. The company made sales worth €1 billion in Russia last year ($1.14 billion, or 69.6 billion roubles).
Realistic innovations
Juergen Oleson, now managing partner at business consultant Boxcom but a Mazda veteran of 17 years, pointed out that there was a large amount of subsidy in Russia being channelled into rail and asked whether OEMs would look at pushing that instead into investment in road carrying equipment.
Oleson did not get a straight answer to this but his question did prompt a wider discussion about multimodal investment more generally because, as Mezynski reminded delegates, last-mile delivery still had to be carried out by road.
It also led to the question of whether trucks no longer used elsewhere might be moved to Russia. For example, Ekaterina Tomilovskaya, deputy head of service parts logistics at Renault Group in Russia, in particular, was keen to know whether the promise of autonomous cars moving themselves from compound to dealer by 2025 would free up trucks that could then be moved to Russia.
Elena Divakova, at Mercedes-Benz, shot the whole prospect of self-delivering cars down, however. While Mercedes-Benz has experimented with using autonomous driving features to move vehicles from assembly to loading areas at plants, she suggested that customers would not want excessive mileage being put on new cars before they had had a chance to drive them.
Instead, the OEMs and LSPs at the event pointed to more realistic innovations, such as those at ports. Lukanova highlighted Adampol's development of services at the Polish port of Gdansk, for instance, based on contracts signed earlier this year with Hyundai and Nissan. This, she said, had solved a bottleneck affecting big volumes sent via Bremerhaven.
Self-sufficient in Russia
Despite the need for investment in car carriers, Lukanova told foreign companies not to feel obliged to invest in fleets for domestic distribution in Russia; if they didn't invest, domestic companies themselves would do so to meet the needs of the market. Lukanova considers Adampol – majority owned by Hyundai Glovis – as a 'local' company in Russia thanks to its Vectura operations.
"If you do not want to invest in Russia, don't do it," she said. "We will cope ourselves."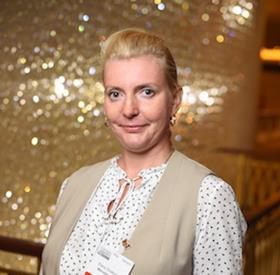 Although subsidies exist to support logistics and transport providers, Lukanova said LSPs may not need these if they could find the money for investment by making their operations more efficient, for example by moving to paperless documentation (as Daimler had done).
Dialogue with manufacturers could also help with investment, said Lukanova, pointing to a joint investment Vectura had made with Ford Sollers in Russia as part of a five-year contract for transport of Ford vehicles made in the country.
"We have started investing in new fleet assets and we are not going to stop," said Lukanova. "It means we'll be a real transport company that will deliver the vehicles the OEMs have made on road, not rail – even if the roads are not of the best quality."
Exporting is an uphill struggle
The export of parts and vehicles from Russia is a complicated picture of opportunity and constraint for domestic producers looking to bolster sales in these difficult times. On the outbound side, Russia only exported 70,000 vehicles last year and was ranked just 34th as a global exporter by IHS Markit. That export figure is only expected to reach 75,000 this year. Normally, annual exports come to around 100,000 but the norm was dented by the loss of export trade to Ukraine, which fell 57% in 2015 to just 1,800 because of geopolitical tensions and has yet to recover.
Exports to neighbouring countries have also been hit, since Kazakhstan imposed its own utilisation fee against Russian-made imports last year. The fee ostensibly covers end-of-life recycling charges on foreign imported vehicles. That has affected export sales for carmakers based in Russia. Avtovaz, for instance, is now looking to export Lada 4x4s to China as a compensatory move. Chief executive Nicholas Maure recently said the company had revised down its export forecast because of the fee.
More generally, Russian brands are not popular abroad, added Tatiana Hristova, with consumer expectations on quality issues a sticking point. There is an extremely high level of saturation and competition in export markets, especially in Europe but also in North America, Australia and South Asia.
However, there have been notable savings in production costs because of Russia's currency depreciation and that has meant a cost advantage for those making vehicles for export in Russia (although recovery in the rouble this year has eroded some of those savings).
IHS Markit's Relative Production Advantage (RPA) index is based on an evaluation of the advantages of making cars in Russia compared to western Europe. It includes such factors as the depreciation of the rouble, the evolution of salaries in Russia, the share of manual labour in the final product and energy resources. The index shows that during the latest economic crisis, the cost-saving of making in a vehicle in Russia increased to a high of €350 per vehicle around mid-2015. Savings will continue over the next four years but Hristova said that by 2021, that effect would have disappeared.
"The main idea here is that we have to deal with exports now and actively invest in this, because there will soon be no advantage from a cost point of view," she said.
The Russian government has also been encouraging exports, including a recent programme to subside some conversion and logistics costs for vehicle exports, as well as some initiatives for parts suppliers (see below).
Planning ahead to improve logistics links and make the most of a widespread locally assembled product portfolio promises benefits from increased export trade, she said. Moving further ahead, former CIS states are expected to buy big from production in Russia and an optimistic scenario from Hristova's IHS data showed a 24% increase in exports from local production thanks to new vehicle export trade to the Middle East, South America and Africa, in particular.
She said historical contacts, as well as similar consumer preferences, made Egypt, Algeria and Tunisia high interest markets, as well as countries in the Sub-Saharan region.
"In South America we recommend paying special attention not to biggest markets in the region, but more to Chile, Peru and Ecuador," added Hristova.
Parts exports to stay alive
For parts makers, by comparison, there have been some notable successes in terms of exports thanks to the weakened rouble.
For Skad, which supplies cast wheels, for example, an export strategy has helped ensure survival and led to permanent, long-term business. Skad opened up links to Europe in 2014 when it started supplying to Ford in Germany, following a production deficit at its established suppliers.
Alexander Golovanets, Skad's deputy director of OEM cooperation and new projects, explained that from supplying technical support at a time of need, Skad established long-term contracts for a more comprehensive service, including the establishment of a regional warehouse in Germany and a customs contract for logistics. "Exports enabled us to live through two tough years," he said.
Golovanets said the company moved cargo to a bonded warehouse and then distributed it over several months, based on the orders from Ford.

"The contract took a lot of time for us but we turned from the remotest to the nearest supplier, able to supply quickly when needed," he said.
He added that the company's logistics had had to go through several stages of adjustment, including establishing a buffer warehouse in Moscow because there were more transport services going between Moscow and Europe than to its Divnogorsk facility in Siberia.
"The delivery to the warehouse in Moscow was in roubles, not euros, and this made it cheaper and saved costs," said Golovanets. Skad also saved time by moving to a temporary customs declaration. "Back in 2014 we spent 24 hours on one declaration because the truck had to take paper to the customs location 100km away; but now, we can do it in an hour."
Compensation for high tech exports
Following the difficulties that many companies had moving goods between Russia and Europe when Poland's conflict with Russia over freight permit quotas flared up – a situation further complicated by troubles in Ukraine – Skad started to track and trace every truck moving to Germany from Russia.
Golovanets said it was a precarious situation but following a decree from the Russian government (decree 4096) suppliers were eventually able to apply for compensation on costs incurred for exports abroad, amounting to €3-4 per delivery. "That reduces [costs] and means we are more able to supply more efficiently," he said.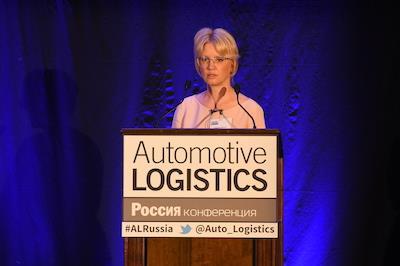 Ksenia Sizova, an associate at global law firm DLA Piper, had more to say about compensation for automotive manufacturers shipping abroad. She highlighted that from this year, those making high-tech parts could get reimbursed for up to 80% of their transport costs via the Russian Export Center, part of Vnesheconombank and mandated by the Russian government to give financial (and non-financial) support for exporters.
To qualify for the maximum 80%, a company must have an agreement drawn up to fully assemble products in Russia and conform with the 'made-in-Russia' status. However, she said, given that it was drawn from an allocated budget, it was very much a 'first-come, first-served' basis.
Thinking of the applications for vehicle production, Renault-Nissan's manager of Alliance Logistics Russia outbound engineering, Dmitry Panshin, called for longer forecasts of such benefits from the government, suggesting that without them, any manufacturer wanting to plan for new export models was stuck in a vicious circle.
Panshin said that for foreign OEMs with production plants in Russia, localisation of new models was very important. The decision to do so, however, was made with a four or five year planning horizon. That decision-making included accounting for the logistics costs of final exports.
"Taking into account that the government proposes to compensate some of this cost, which we plan to use in the future, we want to include it in our calculations to show our parent company there are better conditions, and so encourage new models to the plants [in Russia]," he continued.
Currently, said Panshin, government forecasts only went to 2019 with no indication of what would happen after that, something that scuppered the guarantees Renault-Nissan needed to plan and take advantage of the subsidies on offer.
"We would like to hear more words from this sector addressed to the government so they can give us the future in terms of subsidies for a minimum five-year forecast," said Panshin. "This will help a lot in terms of placement of models at Russian plants that may be exported."
Sizova said it was very much about uniting as a sector to deliver the message as currently, the scope of the budget did not cover a 10-year period. "The Russian Export Center does not make this decision," she said. "You have to collect and address the government together."
Nevertheless, there was no doubt that the export of high-tech goods was important for the Russian economy: between 2006 and 2016, it was worth $9 billion. Export volumes are increasing in this sector and Sizova said subsidies to support that increase would be trebled in 2020. While finite, those subsidies will amount to 12 billion roubles over the next two years.
Customs hurdles
Russian logistics providers have been dealing with a number of other problems affecting the movement of goods, including a continued lack of clarity on customs procedures related to utility tax payments, EAC labelling for the movements of goods in the Euasian Customs Union, EAEU certificates and electronic passports.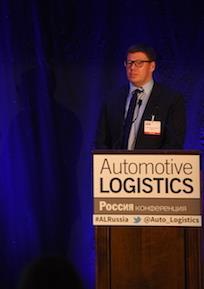 Alexander Kovalenko, national customs manager at Gefco, outlined some the most recent challenges facing the automotive industry from a customs perspective over the last two years.
Tax legislation on the movement of construction equipment, for example, states that it should be paid according to the maximum weight but according to Kovalenko, there was confusion over the definitive calculation of that weight.
The construction equipment makers Gefco deals with used to provide guarantee letters that satisfied customs on the issue, but at the beginning of 2016 that calculation changed significantly, he said. Central excise customs finally implemented it another way (now under RF Government Decree #81), declaring the calculation to be based on the maximum weight of the equipment plus the maximal loading capacity.
"That increases the payment significantly," said Kovalenko. "At present, the utility tax payment is implemented through all the customs authorities and unfortunately the fiscal payments on top have increased significantly for the importers of the equipment."
EAC labelling, which started in 2014, certifies products moving in the Customs Union (made up of Russia, Belarus, Kazakhstan, Armenia and Kyrgyzstan). However, it too has been made problematic by the obscurity of customs and standards legislation.
Customs states that EAC labelling has to be implemented before the goods enter the Russian market. However, it is not clearly stated where the customs clearance and import procedure should take place and for some time products have been sold to customers before the labelling has been applied. The north-west customs administration in St Petersburg is now penalising companies that have no EAC labelling at the point of entry and blocking those imports.
Most recently, a lack of clarity on the introduction of 'electronic passports', which were brought in this month, has also left users in the dark.
For Russian-made vehicles or those imported from abroad, the system means owners should no longer have their transport documents issued on paper. Confirmation on vehicle transit and ownership is sent by state register electronically, and the system also allows insurers to check the history of the car.
The cost of an electronic passport is now anything between 250-600 roubles, however, and that fee can be charged every time a car is registered, which can be anything up to three times in the delivery process.
According to Kovolenko, the system is not fully covered by Russian legislation. "For the time being, when you clear a vehicle through customs you will receive a document that is an official customs declaration and a transport passport that allows you to move and sell the vehicle," he said.
Hedging the bets
This year's conference certainly made clear that carmakers, suppliers and logistics providers have weathered the downturn in Russia using a variety of approaches, including retrenching, consolidation, seeking out new export markets and exploiting the subsidies offered by the Russian government as it works in conjunction with the private sector.
A number of them have also looked to other sectors outside automotive, with a poll at the conference indicating that more than 70% of companies had found new business by doing so and a third of the LSPs present revealing that they saw that as the main opportunity for growth going forward.
For now, however, the focus remains very much on cooperation on investment, with more than 80% of delegates committed to either maintaining or increasing this and a majority aiming to do so in the domestic market. That looks like a safe bet with consumers who have saved during the credit crunch now ready to spend with greater confidence based on more stable planning.
Videos from all conference sessions can be viewed here.
Automotive Logistics Russia is part of the global Automotive Logistics series of conferences
The next conference is Finished Vehicle Logistics Import Export on August 9th at the Marriott Camden Yards in Baltimore