Union Pacific has said it will buy 20 battery-electric locomotives for testing in railyard operations as it seeks to make operations more sustainable.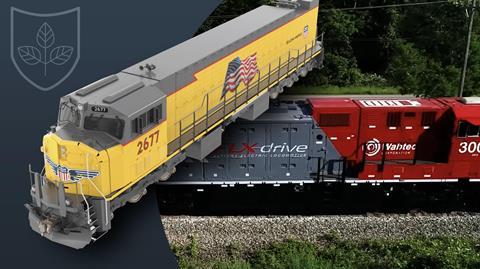 The North American Class 1 railroad company said that, combined with upgrades planned for its railyard infrastructure, the investment in the locomotives would exceed $100m.
Union Pacific is buying the electric locomotives from Caterpillar subsidiary, Progress Rail, and Wabtec, which provides transport equipment and systems. The rail provider said that the first units would arrive on-site at railyards in California and Nebraska in late 2023, and the order would be completed by late 2024. The locomotives will be tested for performance in cold and warm weather and will then be assessed for their capabilities and for broader deployment, according to the company.
Union Pacific added that for every ten battery-electric locomotives used, approximately 4,000 tons of carbon will be eliminated annually, the equivalent of removing 800 cars from the highway.
"We're committed to actions that reduce Union Pacific's environmental footprint as we work toward our ultimate goal of reaching net-zero emissions by 2050," said Lance Fritz, chairman, president and CEO of Union Pacific. "These investments will contribute to further developing this important technology and providing industry-wide benefits."
The company published a Climate Action Plan in December 2021 in which it outlined its plan to reduce greenhouse gas (GHG) emissions across its operations until it achieves net zero emissions by 2050. Collaboration is helping to work toward this goal, including with the port of Los Angeles. The port has recently secured a Diesel Emission Reduction Act (Dera) grant from the US Environmental Protection Agency. In turn, the port of LA has given Union Pacific a sub-award that will partially cover the cost of one battery-electric locomotive.
"Our work with the port of Los Angeles will help us cut emissions in the South Coast Air Basin, which includes four counties in Southern California," said Beth Whited, Union Pacific's new executive vice-president of sustainability and strategy. "This work also will help our customers realise the benefit of moving goods by rail, reducing emissions by up to 75%."
Whited moved to the new role on February 3 this year but will retain her previous responsibilities overseeing human resources at the company.
The port is making a number of efforts to reach its own zero-carbon goals by 2050. At the most recent Finished Vehicle Logistics North America conference, Chris Cannon, director of environmental management and chief sustainability officer at the port, outlined some of the port's moves to make operations cleaner, including developing the necessary battery or fuel technology for equipment. Over the next two to three years, the port and its partners will be doing just that with between 200-300 different pieces of equipment.