Tier one automotive parts supplier Delphi Technologies is expanding its regional aftermarket distribution centre in Poland as part of a contract renewal with logistics provider Geodis, which runs to 2027.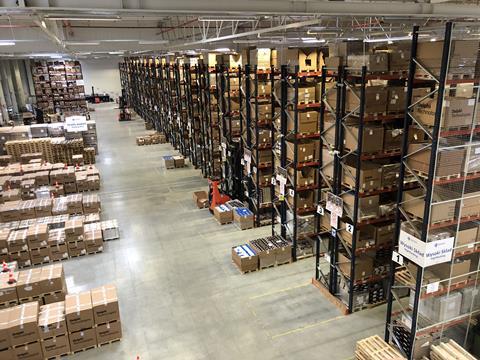 The company is adding 5,000 sq.m to the facility in Wrocław, bringing their footprint to 20,000 sq.m. Geodis said the expansion would increase volumes handled through the centre by 50%. The expansion is expected to be complete by the first quarter of next year.
Delphi Technologies makes parts including for air conditioning and engine cooling, engine management, ignition, steering and braking, as well as fuel systems and batteries.
Along with warehouse services, Geodis will provide customs services, return logistics, data management and parts scanning, and packaging and labelling. The company also said it would be determining demand for safety stock levels, negotiate prices and select suppliers for consumables.
"The increase in space and volume involves hiring additional staff, increasing the amount of equipment used and adapting the layout of the facility to handle additional customer orders," added a spokesperson for Geodis.
Delphi said that Geodis had demonstrated a high level of flexibility with an in-house warehouse management system, which was successfully adapted to the tier one supplier's individual needs.
"This partnership extension with Geodis in Wrocław represents a major step forward for our business and has been a key part of our aftermarket distribution strategy," said Mark Cook, supply chain director for the Europe, Middle East and Africa (Emea) region at Delphi Technologies.
Thomas Kraus, president and CEO for North, East and Central Europe at Geodis added: "Poland is one of our key markets in the North, East and Central Europe region. To be the growth partner for our clients is part of our mission, vision and values at Geodis. The expansion of the warehouse space reflects this and shows what we bring to the partnership with our customers."
Delphi Technologies Aftermarket started working with Geodis in Poland in 2017 when the Wrocław facility was first opened. The tier one supplier was bought by BorgWarner in October last year. Delphi Technologies was formed in 2017 when the former Delphi Automotive divided its business between parts making and smart vehicle technology and mobility, which was then handled by its Aptiv business unit.