Volvo Trucks' US division has turned to Geotab for an integrated electronic logging device (ELD) to be coupled to the truck manufacturer's own factory-fit telematics. Geotab provides global positioning system fleet management and vehicle tracking technology.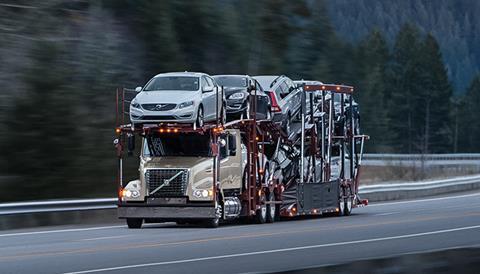 According to Volvo the cloud-based system provides more reliable data capture and delivery in compliance with Federal Motor Carrier Safety Administration (FMCSA) regulations. The device monitors and records hours of service (HOS), as well as duty status and driver vehicle inspection reports.
"The ELD mandate has changed how fleet management is done in this industry, and Volvo Trucks is dedicated to offering the best possible solution to keep our customers' businesses running smoothly," said Ashraf Makki, product marketing manager, Volvo Trucks North America.
"Geotab Drive for Volvo Trucks consolidates all of the requirements for compliance into one integrated, cloud-based system that enables customers to easily record HOS status and complete vehicle inspections from their tablet or smartphone."
Accessing ELD data through the MyGeotab portal enables managers to keep track of fleet compliance with real-time data as they view, for instance, detailed reports on driver logs, the status of the fleet and violation alerts.
By being cloud-based, the new system differs from most other ELDs which deliver data through WiFi or Bluetooth-based methods, according to Volvo. Geotab Drive for Volvo Trucks is intended for all Volvo-powered trucks from model-year 2015 onwards.