The State of Michigan has secured $13m in funding to develop a new charging hub for electric vehicle (EV) freight trucks, in partnership with Daimler Truck North America and DTE Energy.
The prototype programme, known as the Mobility Charging Hub, will include charging infrastructure for EV trucks, helping companies in the transition of their fleets from internal combustion engine (ICE) powered trucks to electric trucks. It is set to be located at Daimler's Redford facility in Detroit near I-96, where more than 10,000 medium and heavy-duty commercial trucks travel daily on their way through the state or onwards into Canada. As well as accounting for 30% of all truck and rail freight travelling between the US and Canada, the site is already equipped with the power necessary to run the charging hub.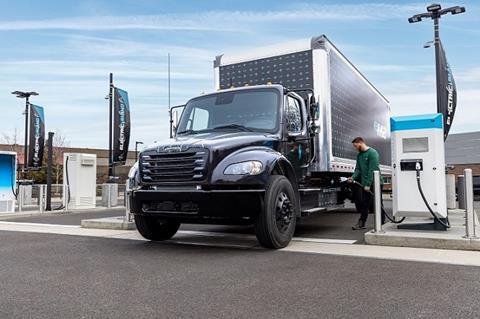 The project will be phased in, with the first phase focusing on the EV charging infrastructure at the site. DTE will operate the core infrastructure including EV chargers, solar canopies and battery energy storage systems. After successful demonstrated usage and commercial viability in the first phase, Michigan's Office of Future Mobility and Electrification (OFME) will then work with its partners to use the hub as a platform for testing innovation. In the future, Daimler's existing workforce training programmes for EVs can be expanded to cover charging infrastructure training at the hub.
"Freight trucks drive commerce, deliver goods and connect businesses throughout the nation, which is why it is critical to prepare this industry for the future," said Lt Governor Garlin Gilchrist II. "Our Mobility Charging Hub will help more companies electrify their fleets, cement Michigan's leadership in the future of freight and rebuild our transportation infrastructure to support the economy of tomorrow."
Rakesh Aneja, head of eMobility, Daimler said: "After introducing Electric Island, a first-of-its-kind heavy-duty electric truck charging site in Portland, Oregon, and investing in Greenlane this year, a joint venture for public charging infrastructure, we are excited to partner with the State of Michigan and DTE in this innovative Mobility Charging Hub. Our 130-acre Detroit manufacturing plant, home to our diesel and electric Detroit Powertrains and powered by more than 3,000 employees, is the ideal location for this project."
Daimler Trucks has been testing electric trucks in the US in recent years. In 2019, the company, along with its acquired business Torc Robotics, also moved to the next stage of their trials, testing automated trucks on highways in southwest Virginia, where Torc is headquartered.
Around two thirds of the funding ($8.5m) comes from a Rebuilding Infrastructure with Sustainability and Equity grant, awarded to Michigan's Department of Labor and Economic Opportunity.