VW Group delivered 99,100 pure battery electric vehicles (BEVs) in the first quarter of 2022, a 65% increase on the same period last year. The carmaker said the number would have been higher but for supply chain bottlenecks
"Demand for our all-electric vehicles is very high worldwide, and our order books are thus well filled," said Hildegard Wortmann, VW Group board member for management for sales, adding that a successive improvement in the supply of semiconductors would further improve deliveries as the year progressed. "We continue to have our sights firmly set on a BEV share of 7-8% for the full year," she said.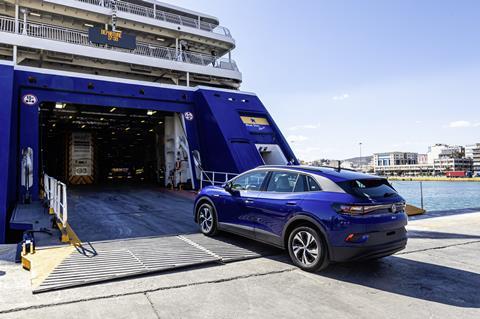 Europe accounted for the majority of BEV sales in Q1, taking around 60%. China accounted for 28,000 units, but showed a fourfold increase on the 6,200 sold in the same quarter in 2021. The US accounted for around 8% of the total figure, equal to nearly 8,000 units (see table #1).
The VW brand accounted for the main number of BEVs delivered, followed by Audi, Porsche, Skoda and Seat/Cupra (see table #2).
Table #1: VW pure electric vehicle sales by region in Q1

Europe

58,400 (+59%)

China

28,800 (+360%)

US

7,900 (+8%)

Rest of world

4,000 (+22.5%)
The results are notable given that VW Group, as with almost all major carmakers at the moment, is dealing with widespread supply chain issues. They include the ongoing shortage of semiconductors, as well as other component shortages, such as for wire harnesses, which have been caused by the war in Ukraine. These disruptions have led to delays in deliveries and a growing waiting list for vehicles. However, VW is working to speed the delivery of its vehicles to market through flexible production strategies supported by digital technology, as well as with its outbound transport providers.
At the same time VW Group is making a concerted effort to make the delivery of its BEVs as sustainable as the vehicles themselves, as seen with the international shipments of its ID.4 model, part of the carmaker's 'goTOzero' logistics' strategy.
Table #2: Electric vehicle sales by brand in Q1

VW

53,400

Audi

24,200

Porsche

9,500

Skoda

8,800

Seat/Cupra

2,200
National and international governing bodies are pushing zero-carbon targets, which involves completely removing traditional combustion engines from roads. This has led to a huge jump in demand for electric vehicles, particularly in Europe, North America and China. Balancing that with the current disruptions is a big challenge for OEMs and suppliers alike.
Table #3: Top five BEV models in the first quarter of 2022

Volkswagen ID.4

30,300

Volkswagen ID.3

13,000

Audi Q4 e-tron (incl. Sportback)

10,700

Audi e-tron (incl. Sportback)

10,300