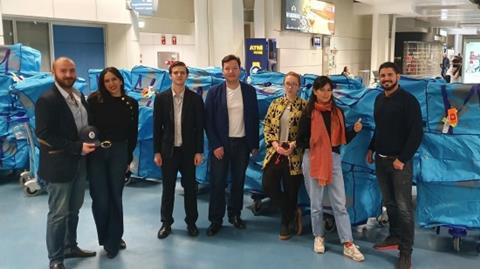 London-based Air Charter Service (ACS) transported just over five tonnes of automotive parts from China to Portugal in 72 hours, its largest single on board courier (OBC) job to date.
The client needed to quickly move the components from Zhongshan, near Guangdong in China, to Porto in Portugal, but found a holiday in China and the seven-day requirement for permits in Asia thwarted initial plans.
Once the job was passed on to the air charter broker's OBC team, "we quickly realised that the best idea would be to truck the cargo to Hong Kong, from where there are plenty of flights to Europe," said Oliver Weigelt, ACS's on board courier manager.
The company gathered a team of 25 couriers to await the cargo at Hong Kong airport, who repacked the parts into 186 separate packages each weighing 32kg, the maximum allowed weight for a single item under international flight rules.
"The first group of our couriers set off less than 36 hours after the initial call from the client, each with seven packages. The teams flew from Hong Kong into either Frankfurt, Amsterdam or Munich, before taking their connecting flights to Porto," said Weigelt.
The time from the trucks picking up the automotive parts in Zhongshan to arrival in Porto was just 72 hours, aded Weigelt.
ACS has 25 offices worldwide and offers private jet, commercial airliner and cargo aircraft charters, as well as OBC services.