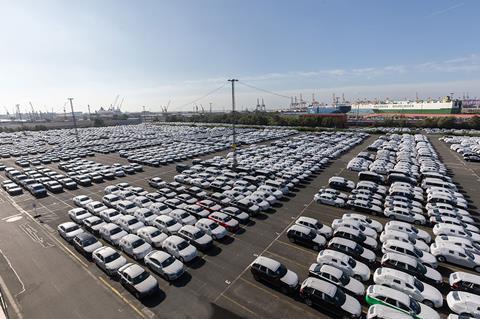 Germany's BLG Logistics has reported that its Automobile division showed the strongest performance in 2019 with sales growing more than 9% to €603.7m.
At its recent general shareholders' meeting the company said that revenue grew significantly on the previous year by €50.6m. However, CEO Frank Dreeke said he expected the impact of the coronavirus pandemic to affect the company significantly this year, though he added that the company had a solid financial basis and was robust enough to weather the storm.
BLG said that a reliable forecast of the impact in 2020 was currently impossible.
According to a spokesperson for the company, gains in the Automobile division are the result of stable handling volumes, good business development in car transport by truck and rail, and a higher added value at its inland terminals.
"In the entire network of the Automobile division we handled, transported or technically processed a total of 6.3m vehicles," said the spokesperson. "The seaport terminals business segment is characterised by a very good customer portfolio, a stable import/export ratio and high warehouse capacity utilisation."
Handling and technical volumes remained at a high level and at the German port of Bremerhaven alone BLG handled around 2.1m vehicles in 2019.
"At the terminals, the continuous implementation of further process improvements and investments in control software have succeeded in considerably improving productivity and thus the result," added the spokesperson.
However, BLG did observe the positive first half of 2019 was "cooled down noticeably towards the middle of the year".
"The second half of the year did not produce the volumes we had planned," continued BLG's spokesperson. "The year ended with less volume and less margin. Despite the difficult overall economic conditions, we again achieved our previous year's result. That is a respectable achievement."
In its two other divisions – Contract and Container – the results were down. Sales revenue in contract logistics in 2019 was down 5.9% to €563.9m compared to the previous year, though earnings before tax increased by €178,000 to €7.4m. In the container division sales revenue was down 6.5% to €282.3m. The decline was attributed to the economic downturn and the associated decline in volume in the second half of 2019.
In terms of contract logistics wins, BLG took over the project management of a large logistics centre for the sporting goods manufacturer Puma last year and put into operation a similarly complex centre for its long-standing customer Englebert Strauss, which makes work and safety wear.