Volkswagen is reported to be in discussion with two of its top suppliers over possible compensation for losses caused to its output in Germany.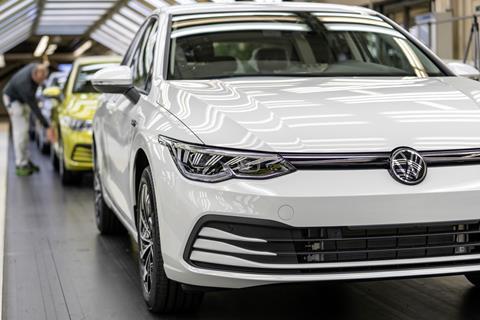 A report in this week's German industry publication Automobilwoche said VW is looking for Bosch and Continental to share the burden and partly compensate the carmaker for additional costs resulting from the disruption caused to parts supply by the semiconductor shortage.
As reported last week, several of VW's production sites in Germany have affected by the semiconductor bottleneck, which has affected the supply of parts to all models based on VW's MQB platform for VW Group divisions, including passenger cars, commercial vehicles, Škoda, Seat and Audi. VW confirmed output reductions at Wolfsburg, and Emden and the component plant at Brunswick were also affected, according to Automobilwoche.
VW said it was continually reviewing countermeasures and alternatives to limit the effects of the supply bottleneck and the number of vehicles affected. It also said it would review supply chain issues with its suppliers but was careful to stress that it was not naming any particular suppliers.
"For Volkswagen, the top priority is to minimise the effects of the semiconductor bottleneck on production," the company said in a statement. "This happens in close and cooperative partnership with our suppliers. Dealing with the current situation will also include examining claims in exchange with suppliers."
Neither Bosch or Continental would comment on the latest report. Both have been hit by shortages from further down the supply chain at the level of semiconductor production, which is expected to continue into 2021.
Last week Bosch said it was in daily contact with suppliers and customers, and was doing all it could to keep customers supplied to minimise any further impact. Likewise, Continental said it was providing customers with regular updates on production and delivery schedules, as well as communicating daily with suppliers to keep track of production and shipment schedules, and monitor bottlenecks.
In its preliminary figures for business performance in 2020 VW said that fourth quarter deliveries had beaten those of the third quarter despite the ongoing and unprecedented situation caused by Covid-19. The main details on financial performance will not be available until the end of February but VW said that operating profit (before special items related to Dieselgate or the fine it is facing for missing the EU's fleet CO2 target) stood at around €10 billion.
VW has previously reached agreements with suppliers to end disruption to inbound supply. Faced with disruption to six of its German plants back in 2016 because of a payment dispute with parts suppliers ES Automobilguss and Car Trim, the carmaker dropped claims for damages for non-delivery in exchange for the suppliers withdrawing compensation claims.