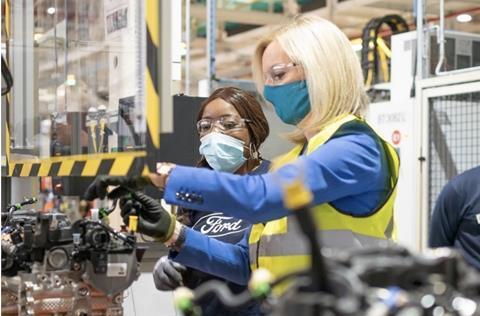 Ford has received a £500m ($648m) guarantee from UK Export Finance (UKEF) to help it maintain exports of engines and transmissions from the UK. The guarantee, which was given in July, is part of a planned £625m loan facility from commercial banks using its Export Development Guarantee. It will be a five-year bullet loan, repayable in 2025.
UK Export Finance is the UK's export credit agency, which was set up by the government to support UK based companies exporting goods with finance or insurance from the private market.
According to Ford, the new loan supports its continued focus on engine exports from the Dagenham plant in the UK. That includes upskilling its UK workforce, promoting further investments in electrified powertrain testing, digital manufacturing and smart mobility solutions. It also includes developing the Ford Britain Dunton Campus as a global leader in commercial vehicle development, said the carmaker in a statement. Ford is designing its next Ford Transit van at Dunton and will be launching its first all-electric Transit next year.
"Ford's manufacturing operations are a UK export success story with around 85% of engines and 100% of transmissions built by Ford exported to more than 15 countries on six continents," said Graham Hoare, chairman, Ford of Britain. "The value of these exports, including machined engine components, is around £2.5 billion annually."
Last year the carmaker announced it was closing its engine factory in Bridgend, South Wales, which makes the 1.5-litre, three-cylinder engine because of declining demand.