The container vessel Ever Forward remains grounded outside the US port of Baltimore this week, with dredging work now underway to try and free the 12,000-TEU vessel.
In an update posted by Evergreen, the company that owns and operates the vessel, it said: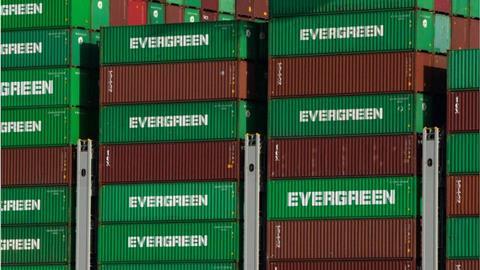 "The team is mobilising all available local tugboats to join in the refloating operation. After sufficient mud is excavated the refloating operation will begin using both the tugboats and the power of her main engine. The rescue team will carry out the plan utilising the most beneficial high tide period in the port area."
The dredging is part of a salvage plan that has been approved by the US Coast Guard. Evergreen contracted Donjon Smit for the salvage operation.
The vessel, which is undamaged, ran aground on March 13 in Chesapeake Bay, almost a year after its sister vessel, the Ever Given, became stuck in the Suez Canal, causing a global shipping bottleneck that lasted for six days. The ironically named Ever Forward is not preventing other vessels getting in and out of the port of Baltimore. It is reported that the vessel became grounded after straying from the Craigshill Channel as it departed the port of Baltimore for Norfolk, Virginia.
The crew of the Ever Forward are unhurt and remain onboard.