Strike action is once again threatening container throughput at the UK's ports with the announcement that 560 workers at the port of Liverpool will walk out between September 19 and October 3.
It follows close on the heels of strike action taken at the port of Felixstowe in late August.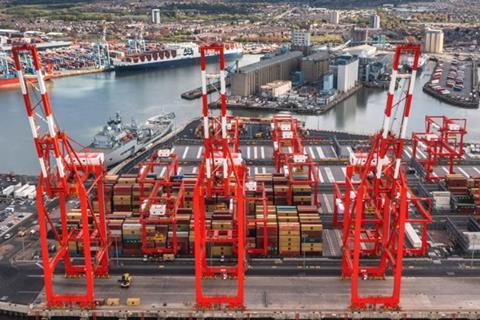 The latest strike is expected to disrupt both maritime and road transport in Liverpool and the surrounding area. The port handles an average of 700,000 TEUs of goods per year. Peel Ports also processed 39,000 finished vehicles through Liverpool last year.
The labour disruption comes at a time when the logistics sector in the UK is suffering from capacity and pricing pressures related to a serious labour shortage, soaring fuel prices and other inflationary pressures.
The port operatives and maintenance engineers taking part in the strike are affiliated with the Unite union. According to the union, the action is being taken in response to a 7% pay offer made by the Mersey Docks and Harbour Company (MDHC), part of Peel Ports Group. Unite said that offer represented a pay cut given the 12.3% rate of inflation in the UK. Unite is also striking in protest at pay and shift rota agreements that it said MDHC had failed to honour.
However, Peel Ports said that its pay offer actually represents a rise of 8.3% for workers. The company's chief operating officer, David Huck, said that was well above the UK national average. Huck said it was a sustainable deal for the business given the current disruption to global shipping and stagnation in the container market.
Average container prices have declined by more than half compared to last year. That follows two years of exceptionally high rates caused by the clash between a high demand for goods and disruption to container ports caused by the Covid pandemic.
"Whilst we fully appreciate our colleagues' concerns on the rising cost of living, we have proposed an industry leading pay package of 8.3%," said Huck. "This is all in addition to a 4.5% increase in 2021, with improvements to shifts, sick pay and pensions, and following continuous and above average pay awards over the last ten years."
However, Unite said that more strikes would be scheduled in the coming weeks if MDHC failed to put forward an acceptable offer to the workers.
Unite lead officer for freeports, Steven Gerrard, said: "MDHC has refused to honour the previous pay pledges it made to our members and is refusing to put forward an acceptable pay rise now. It has no one else to blame for the disruption that will be caused."
Peel Ports has operations at six ports around the UK, at Clydeport, Dublin, Great Yarmouth, Heysham and London Medway, as well as providing services on the Manchester Ship Canal.