Volvo Trucks will start assembling lithium-ion batteries at a new facility attached to its Ghent assembly plant in Belgium this summer, with series production beginning in the third quarter of this year. The batteries will be for local and overseas truck production.
The Swedish truckmaker has invested €17m ($18.1m) in a 3,600 sq.m facility to make the batteries, with cells and modules supplied by Samsung SDI. Volvo Group signed a deal with Samsung SDI back in 2019 to develop battery packs for its electric trucks. The collaboration with Samsung covers joint development of battery packs specifically developed for Volvo's trucks, with Samsung SDI's battery pack technology used for assembly in the Swedish group's manufacturing operations.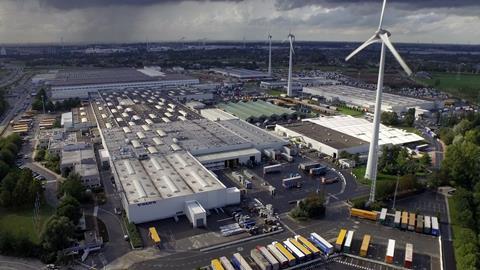 Samsung SDI is currently expanding its plant in Hungary (though it is not confirmed if this is from where the cells and modules are being supplied). Those cells and modules will be assembled into battery packs for Volvo Trucks' heavy-duty electric range: Volvo FH, Volvo FM and Volvo FMX. The first electric trucks will roll off the Ghent production lines next year and, in the meantime, battery modules will be sent to the Volvo Trucks plant in Umeå, Sweden, which has been making electric trucks since 2019.
Volvo Trucks will assemble around 30,000 battery packs a year in Ghent.
"This investment shows our strong commitment to electrifying truck transportation. By 2030, at least 50% of all trucks we sell globally will be electric and by 2040, we will be a carbon-neutral company," said Roger Alm, president of Volvo Trucks.
Each battery pack has a capacity of 90kWh and the end customer can choose to have up to six batteries per truck depending on the specific range and load capacity requirements, said the truckmaker. Each pack weighs around 500kg.
Multimodal advantages
As well as supplying the factory in Sweden, Volvo Trucks will be making batteries at the new facility for its other overseas plants. The company has plants in Australia, Brazil, France, India, South Africa, Thailand and the US. The Ghent factory's position next to the port of Ghent offers benefits for this distribution.
North Sea Ports, the merged port authority operating at Ghent, Vlissingen and Terneuzen ports, said the location of the battery plant in Ghent meant it was in a good location in Europe for multimodal transport options. The company also said Volvo Trucks' goals to electrify all of its products by 2040, as well as run the Ghent assembly plant on cleaner principles, fit with its own targets to make its port operations climate-neutral.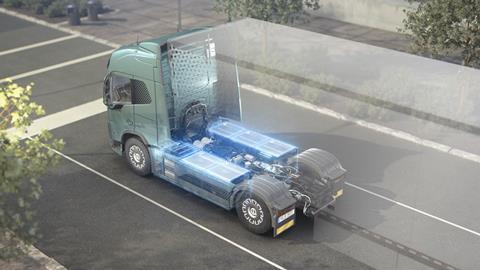 The DFDS terminal in Ghent, which is the main car handling facility, is developing a more sustainable terminal, with plans to install renewable shore power and take carbon out of operations at the terminal. The company has also invested in terminal infrastructure, space and operations.
According to North Sea Ports, DFDS is investing in longer tracks for handling car transporter trains so it can move more volumes from road to rail. Investment in rail links to the port could also support the inbound flow of battery materials to the Ghent facility.
In 2019 North Sea Ports signed an agreement with Ekol Logistics and Transuniverse Forwarding to build a 40-hectare multimodal facility in the Kluizendok at Ghent port that will include a 20-hectare rail terminal, 10 hectares for a crossdock platform and 10 hectares for a ro-ro terminal.