Nissan Motor will reportedly build a lithium-ion battery plant in Japan to support EV production as part of a joint investment project with battery manufacturer Envision AESC. It could be the start of Japanese-based firms ramping up battery supply chains at home.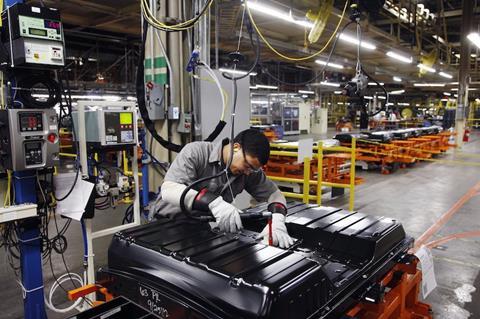 Nissan Motor plans to build a lithium-ion battery plant in Japan to support electric vehicle (EV) production as part of a joint investment project with battery manufacturer Envision AESC, Bloomberg reported last week.
Initially, the joint investment of JPY50 billion ($459m) will reportedly establish a factory in Japan's Ibaraki Prefecture, north of Tokyo, with an annual production capacity of 6 gigawatt hours (GWh) of batteries.
According to the report, construction is scheduled for completion in 2023. After five years, the joint operation would invest JPY100 billion to develop the plant's annual production capacity to 18 GWh, which would be enough power 250,000-350,000 electric vehicles with similar battery capacity to the Nissan Leaf depending on the utilisation rate of the battery gigafactory, according to Daniel Harrison, automotive analyst at Automotive from Ultima Media.
Read here for Automotive from Ultima Media's new report on EV battery production
This follows an announcement by Envision AESC in July that it would invest £423m ($588m) in a new UK EV battery plant, in coordination with Nissan's plans for a £1 billion EV factory in Sunderland.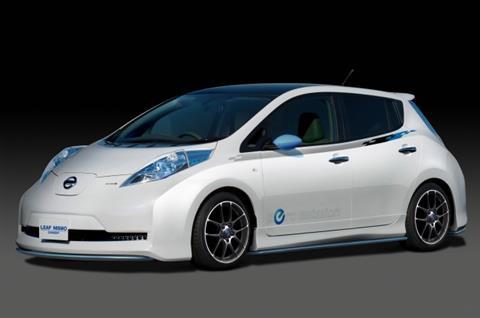 At first, the UK factory will have an annual capacity of 9 GWh, increasing to 25 GWh following the second stage in investment, reaching a capacity of up to 35 GWh.
Envision AESC is also set to increase battery capacity with Nissan's alliance partner Renault. In June this year, French President Emmanuel Macron announced that the Chinese green tech giant would spend €2 billion ($2.4 billion) battery plant in Douai, in the north of France, which will supply Renault's EV production hub in the region.
This year has seen numerous deals struck by OEMs to increase battery manufacturing capacity as they shift away from internal combustion engines. Ford Motor and South Korea's SK Innovation are planning to build EV batteries in the US at two separate sites, while Volkswagen Group has committed $29 billion to compete with global EV leader Tesla, with plans for six gigafactory locations in Europe by 2030.
Asian tiger collaboration
The gigafactory investment in Japan could be the start of further expansion of the country's battery manufacturing and supply base. Although Japan's Panasonic is among the global leaders in EV battery production – thanks largely to its partnership with Tesla in the US – Japan is otherwise not yet a major player in lithium-ion battery production for EVs. Daniel Harrison at Ultima Media explained that Japan's current EV battery supply chain is dwarfed by China, accounting for just over 20 GWh compared to the world's global capacity of around 475 GWh. (For a list of global battery gigafactory locations, read here.)
"The majority of Japan's battery requirements is for the production by volume manufacturers Toyota and Honda hybrids, and these require batteries only <5% the capacity of an EV. Therefore Nissan, as the only major EV volume OEM within Japan, and needing to expand its battery supply has decided to do so with long-time venture partner AESC, rather than major domestic cell manufacturer Panasonic", he added.
Automotive Energy Supply Corporation (AESC) was set up in 2007 as a joint venture by Nissan and Tokyo-based NEC Corporation to supply batteries for the first-generation Leaf. China's Envision Group purchased a majority stake in the AESC battery subsidiary from Nissan in 2018. However, the Japanese OEM still retains a 20% stake in the company and has kept its Yokohama headquarters.