Bearing manufacturer SKF is trialling an autonomous electric truck to transport parts between its factory and its warehouse in Gothenburg, Sweden. The vehicle has been developed with Einride, the Swedish transport provider that specialises in electric and autonomous vehicles (AVs), and is based on its Pod concept.
SKF already uses automated guided vehicles (AGVs) inside its facilities but generally uses diesel trucks for exterior transport of materials. The company said it hoped the autonomous electric truck would lower carbon emissions.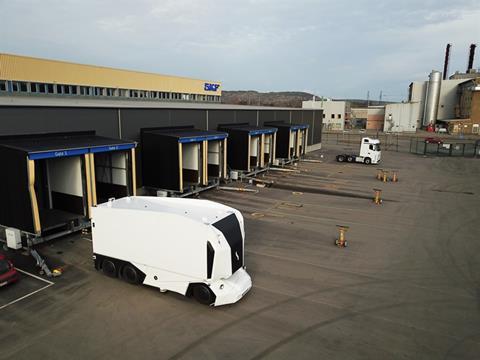 SKF and Einride are still seeking a permit from the Swedish government to also be able to operate the trucks on sections of the public road. Einride has already been testing driverless trucks on the public road with other partners. Volvo is holding a similar trial on Swedish public roads with its Vera driverless trucks.
SKF and Einride are also working on developing a way for the loading and unloading of the trucks to be automated.
"With the partnership with SKF, we now have customers in all our priority customer segments: trade, consumer goods and industrial goods, which we are very proud of. Together with them, we will learn and grow quickly," said Jonas Hernlund, commercial manager at Einride.
The Pod has a 10-ton carrying capacity and has four levels of autonomy (which are different from the SAE's industry-accepted five levels of autonomy). In the first stage, the AV can operate in closed facilities with clearly defined routes. In the second stage, it adds short distances over public roads. This is the type used by SKF.
Einride expects that the next two stages of autonomy will be ready by the end of 2022. At that point, the Pods will be able to drive first on quieter roads at speeds up to 45km/h, and in the last stage on all roads at speeds up to 85km/h.
Companies using the Pods have to count on monthly operational costs of approximately $18,000 for the first stage and $19,000 for the second stage. Pods with stage three autonomy will cost $20,000 per month to operate, rising to $22,500 for stage four. These fees include Einride operators remotely overseeing their movements.